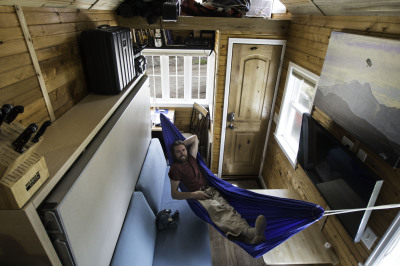 My name is Ryan and welcome to my tiny house that I currently have it parked in Fairplay, CO. It's 131 sq ft and I didn't have to sacrifice any of the features that a regular size home has to offer. 
I plan on taking you through an online blog/tour using this site and to thoroughly discuss all my ammenities that I chose and how they operate at 10,000' elevation nestled into the Rocky Mnts. Like I said, I kept all the creature comforts of a normal home.  From my queen sized main floor bed, to my highly efficient 2.5 gallons per cycle electric dishwasher. I will go over everything that I used to make this home a near off the grid dwelling.  And best of all, I am living in Tiny full time to give you the best reviews of how things function. 
I installed things like:
queen sized murphy bed
6' galley kitchen with high-end custom built cabinets
full size pantry

all the appliaces, (oven/stove, dishwasher, fridge/freezer, microwave)

Full size shower, with separate vanity sink 

permanent office

dining room for 2 



155 gallon heated water storage
Low voltage LED's 
Battery Bank
14 windows for natural lighting
10' ceilings thoughout 
I plan on sharing how I managed to store 155 gallons of water on board without using any of my cabinets as a utility room. All my cabinets either have pots, pans, dishes or silverware in them.  Now I just have to learn how to cook.